JP194 JOLLY WHITE POPLAR WOOD PELLET 1KG
豚鼠 --- Bedding ---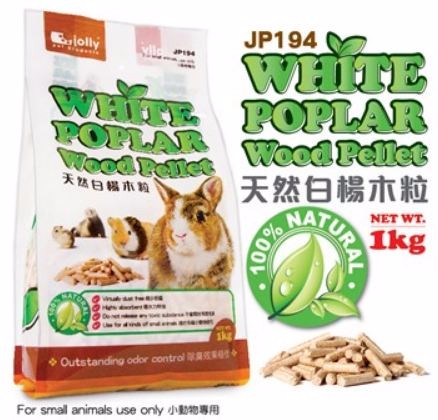 White Poplar Wood Pellet is made from natural white poplar which does not release any toxic substance or contain any additives or chemical, so you can use it at ease.
Features


- Highly absorbent to keep a dry and refreshing conditions.
- Dust free to prevent the influence on respiratory system and eyes.
- It does not release any toxic substance, which can be harmful to animal's organ, and cause to skin and respiratory problem.
- Only remove the contaminated pellets and add the same quantity to mix with the rest for continuing usage. Easy and economical.

Usage Suggestions
1. Pour the pellets 2-4cm deep.
2. If your pet does not readily adapt to the new pellet, add the new pellet to the existing pellets on a basis of 2-4cm deep.
3. For best result , remove solid waste regularly and stir pellets to aerate. Top up with fresh pellets as needed, and replace completely at least once a week.