JP288 JOLLY BEDDING SAND (APPLE) 5KG
Hamsters --- Bedding ---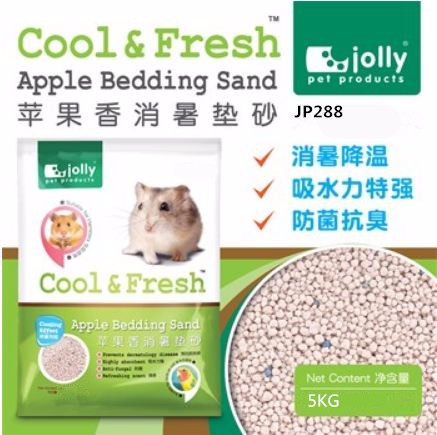 Lemon flavor bedding sand was made with natural sand and soil.
It has the natural effect of removing summer-heat.
Nonetheless, the bedding sand barely contains any dust.
It will not affect the animals' respiratory system and eyes.
In addition, the bedding sand can absorb any fluids and have a sanitization effect.
The cage can stay clean at all time.
此消暑墊砂選用天然砂和土製成,
能達到天然消暑降溫效果,而且極少粉塵,
不會影響動物的呼吸系統及眼睛,
它同時亦具備強效的吸水功能,可快速吸收動物尿液,
保持籠內乾爽清香,另外還具有殺菌、預防皮膚病之功效。